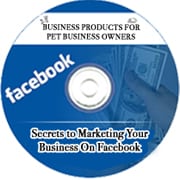 (Contains 1 mp3 recording delivered immediately to your email) $20.00
Are you on Facebook but have no idea how to leverage your profile in order to get more clients for your business?
Have you decided not to become a member of Facebook because you've thought it was just for college kids? Are you on Facebook but you don't know how to use it to effectively market your pet sitting business?
If so, you may be missing out on a valuable way to connect with potential clients! It's true that Facebook did start out as a way for college students to keep in touch, but it's quickly evolved into one of the most frequented social media websites in existence. In fact, right now the fastest growing demographic on Facebook is people 35 years of age and older! With more than 250 million active users there is no doubt your clients are already there.
Facebook users are researching products and companies, recommending products and services to friends, and even buying goods and services just like yours-all from within Facebook!
Here's what you'll learn in the Facebook Recording: Secrets to Marketing your Pet Sitting Business on Facebook: 
Why Facebook is an important tool for your pet sitting business
Why you may (or may not) want to grant access to your personal profile to business associates and/or clients
How and why to create a fan page for your pet sitting business
Why privacy options on your personal profile are important to your pet sitting and dog walking business
The difference between a Facebook Group and a Facebook Page
Why you want to create a vanity URL for your personal profile and your business page
How to find friends and clients on Facebook
Using Facebook ads to promote your pet sitting business
How to attract clients and potential customers to your business page
SPECIAL BONUS: Facebook Tips and Tools list to get you started after the class
You will walk away with: 
An understanding of Facebook and why you should use it for marketing your pet sitting and dog walking business
A set of best practices and tips to get you started and keep moving
An understanding of how Facebook fits into your networking and pet sitting business strategy.
Join Kristin Morrison from the Six-Figure Pet Sitting Academy™ as she interviews Therese Kopiwoda. Therese has the knowledge and experience to teach you how to use social media to get your business noticed by potential clients and customers. Therese has used Facebook and other social media tools to turn her online business, PetsitUSA, into a nationally recognized source for pet sitters and pet owners alike. In addition to her own use of social media and social networking, Therese works with individuals and small business owners to help them harness the power of social media to improve their own online presence.
This recording is over an hour in length and will be emailed to you in mp3 format and is available for immediate download and immediate listening on your computer NOW. You can also burn this mp3 recording onto a CD so you can listen and learn while you are driving to a pet sitting or dog walking job! Order the Facebook Recording: Secrets for Marketing your Pet Sitting Business on Facebook for Pet Sitters Recording today and have your Facebook questions answered immediately!