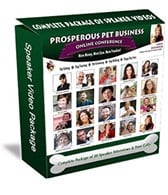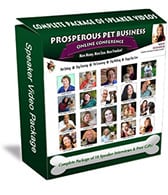 (39 videos delivered immediately to your email for lifetime viewing $247
(Save $47!)
You asked and we listened! We've received a lot of requests for the conference video package and now here it is. With this combination video package you'll get a lifetime of viewing all 39 videos from the 2014 and 2015 pet business conferences plus the free gifts from the speakers that were given to conference attendees. Watch, listen and learn from top pet business experts as well as mind, body and spirit leaders to help you create more profit, ease and freedom in your pet business (and your life).
With this Pet Business Conference Video Combination Package you will receive:
2014 Pet Business Conference Videos
2015 Pet Business Conference Videos
These videos will be emailed to you for immediate viewing and listening on your computer or smart phone immediately upon purchase. You can also listen to these video recordings while you are driving to a dog training, pet sitting or dog walking job.
Why wait? Save money and order the Pet Business Conference Video Combination Package to catapult your pet business to success now!
To add more items to your cart, simply go back to the Products for Pet Business Owners page.