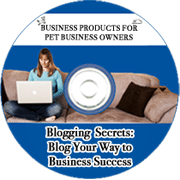 (Contains 1 mp3 recording delivered immediately to your email) $20.00
No doubt you've heard about blogs, but do you know how smart business owners are using them to gain more visibility for their businesses? Whether your blog is a stand-alone blog or part of your overall website, blogging allows you to create dynamic content that keeps people engaged. It also keeps your customers or clients coming back for more!
With over 40,000 new blogs are created every day how do you make your blog stand out from the crowd?.
learn how to market your blog
In this recording you'll learn how to market your blog so it becomes a "must read" resource for your clients and prospects. Blogging can also be a vehicle that can easily and effortlessly catapult you to the top of the search engines as a result of the keywords you use in your posts. Through this recording you'll learn many ways to increase traffic to your blog and increase your readership rate so your clients will return daily or weekly to read your updated posts!
And guess what? It's really not difficult to maintain a successful blog once you learn the secrets to creating a blog and marketing it effectively. (We'll teach you those secrets in this dynamic 70-minute recording!)
Isn't it time you take your online presence to the next level?
With a successful blog you can:
Build a loyal following of clients, customers, and business prospects
Become a recognized expert or leader in your field of business
Easily sell your services or products to your clients
Sell advertising space on your blog
Build a large list of highly targeted readers
Highlight specials your business is offering in order to generate immediate cash flow.
Here's what you'll learn from this Blogging Recording:
What a blog is and what makes it different than a website
How to write "Google-friendly" blog posts that help move your blog higher in search engines results.
How you can dramatically increase sales while spending less on marketing
The best software to use for your blog
Why it's important to have your blog on your domain rather being hosted by a third party
Why you need the best SEO blogging theme available for your blog
How a blog can bring many more visitors to your website
How to use your blog to reinforce your company goals and vision
How to keep readers coming back for more
Tips to help you stay on track with your blogging
Basic blogging etiquette: what to write, what not to write
Listen to the Q & A portion at the end where pet sitters just like you ask their most challengine social media questions and get the answers they need to make social media work for them.
SPECIAL BONUS GIFT upon order of the recording: Contains a powerful 2-page Blogging Tips and Tools list to help you harness the power of blogging in your own business.
Join Kristin Morrison from the Six-Figure Pet Sitting Academy™ as she interviews Therese Kopiwoda. Therese is excited about sharing her knowledge and experience to teach you how to use a blog to get your business noticed by potential clients and customers. In her own business she has used social media tools including blogging, to turn PetsitUSA.com into a lucrative nationally recognized source for pet sitters and pet owners alike. In addition to implementing social media in her own business, Therese works with individuals and small business owners to help them harness the power of social media to improve their own online presence.
This recording is over an hour in length and will be emailed to you in mp3 format and is available for immediate download and immediate listening on your computer NOW. You can also burn this mp3 recording onto a CD so you can listen and learn while you are driving to a pet sitting or dog walking job! Order the Blogging Secrets for Success recording today and have your blogging questions answered right now!