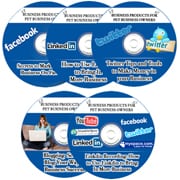 (Contains 5 mp3 recordings delivered immediately to your email)  $75 (a $25 Savings)
Social media is the way powerful pet sitting businesses are marketing themselves. Want to increase your client base and your profit margin by thousands of dollars a year? You can if you know how to use the hottest marketing sites out there: Twitter, Facebook and Linkedin.
This 5-recording collection will rocket your pet sitting business to success. In just 5 hours of listening to these recordings you will be prepared to leverage your social media profiles in a way that will cause your profits to rise-easily and effortlessly!
Each recording also contains a FREE Tips and Tools that will help you navigate the social media site that each particular recording focuses on and will enable you to put what you've learned on the recordings into action.
With this 5-recording social media for pet sitters package you will receive:
These 5 separate hour-long recordings will be emailed to you in mp3 format and are available for immediate download and listening on your computer immediately upon purchase. You can also burn these mp3 recordings onto a CD so you can listen and learn while you are driving to a pet sitting or dog walking job!
Why wait? Save money and order the combination package of social media recordings today so you can catapult your business to success now!
Click here to get back to the Business Products for Pet Sitters page.