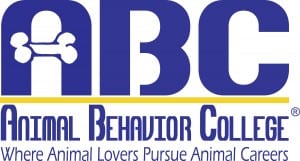 Are you thinking about becoming a dog trainer? Or a veterinary assistant or a pet groomer? Animal Behavior College (ABC) can help make that dream a reality!
A few weeks ago I interviewed Steven Appelbaum, President of Animal Behavior College (ABC) via email:
Kristin: Hello Steven, please tell me a little bit about you and what inspired you to start ABC?
Steven: I wanted to help fill a void and make a difference. At that time I had a training company that needed trainers all across the United States and Canada. We created a test to screen applicants and I was shocked to find that 70% of people claiming to be trainers with at least 1 year worth of professional experience could not pass the exam my company gave to them. It was not even a hard test! This told me there was a real need for education and some sort of standard that trainers could be taught too. However, I also did not want (and still don't) to deal with the politics and emotion that seems to radiate from the subject of trainer education, what methods to teach, etc. Bottom line for me was I wanted to create something that would really prepare people for actually being able to make a living and a difference as a functional dog trainer. This includes an understanding of basic business principles. The creation of this program led to the birth of ABC.
Kristin: I know you help dog lovers become dog trainers. How does ABC's dog training program work?
Steven: The programs are a combination of distance learning coupled with a hands on portion called an externship. The externship part is done with an actual working dog trainer in real world situations. We have a national network of mentor trainers for this. The program enables students to keep their current jobs and lives while they are learning and also gives them the hands on experience they will need once they get out of school and into the real world of training.
Kristin: Besides dog training, what other types of pet vocation training does ABC provide?
Steven: We teach two other main programs which include a Certified Veterinary Assistant Program and a Certified Pet Grooming Program. ABC Certified Veterinary Assistant students are trained to work in an animal-hospital environment and learn examination procedures, use of pharmaceuticals and handling of medications. Techniques for surgical preparation, laboratory test procedures and knowledge about radiology and ultrasound imaging provides the student with the skills necessary to develop a professional career caring for animals in need.
ABC's unique multi-sensory Certified Pet Grooming Program offers students a strong foundation of the essential techniques, methods and gentle grooming behaviors that will protect the pet being groomed and create a more relaxed grooming experience overall. A professional grooming career affords animal enthusiasts an artistic and creative profession to help contribute to the overall health and well-being of a variety of animals.
Animal Behavior College provides supplementary Continuing Education Programs (CEP's) for people who are interested in learning more about working with animals.
Currently, the courses offered are:
Training Shelter Dogs
Teaching Private Lessons
Pet Sitting and Dog Walking
Cat Management and Training
Pet Nutrition and Diet
Kristin: Steven, how many students have gone through the ABC program?
Steven: Since 1998, we have had over 23,000 students enroll in our certified programs. Our alumni consists of over 8,900 students and the dog training alumni graduates make up the largest group of certified dog trainers in North America. Through the Military Spouse Career Advancement Accounts program (MyCAA), qualified military spouses are eligible to receive $4,000 in education benefits to pursue associates degrees, certificates and licenses. To date we had over 3,100 students enroll in our programs to help them establish portable and viable animal careers to help support their families.

Kristin: Anything else you would like to tell me about yourself or ABC?
Steven: We are proud to announce that we have added a Certified Dog Trainer Classroom Program at our Santa Clarita Valley, California location in addition to our distance learning programs. The program includes personal, in class academics for learning dog psychology, basic obedience cues and effective problem solving, as well as 60 hours of hands-on-training done with the coaching of an ABC Certified Dog Trainer instructor. Students have an opportunity to work with homeless dogs at local shelters to help them become better candidates for adoption, observe dog behavior and do temperament testing. The well-rounded comprehensive program gives students the fundamentals to continue their training for therapy and/or service dogs, and various other specialties as well. We also have funding available for qualified military veterans and their families under the provisions of title 38, United States Code.
How can readers contact you and ABC if they are interested in attending your program(s)?
For more information about ABC and our programs, please visit our website at: http://www.animalbehaviorcollege.com/info or call us at: 888-600-7220
On Facebook: https://www.facebook.com/AnimalBehaviorCollege
On Twitter: @animalbehaviorc