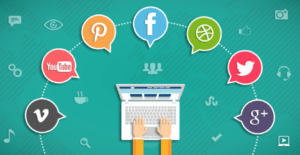 There are a ton of tools out there for managing your social media presence. There are some that are great and others that are a total waste of time. I've gathered a list of them that I think are great. Here's the result of my labor! (You're welcome.) 😉
But, before you begin, take a deep breath. Take it nice and easy. Go through the list below and pick just a couple to start with and focus on mastering those before moving on to the next one.
Ready? Let's go!
Managing and Scheduling Tools for Social Media
Hootsuite — This is the Mac Daddy of them all. In my experience, Hootsuite can do most of what my pet business coaching clients need when it comes to managing and scheduling their social media.
Buffer — This site will help you gather content that will allow you to post to your social accounts gradually over a period of time.
Edgar — This is a cool one. It's like the one above but the list of content never runs out. Once Edgar reaches the bottom of your list of content items, it will then post your prior content from the top of the line again.
SocialOomph — This tool is super cool and it will also give you the rotating line of content found in Edgar. It's affordable, but unless you are super tech savvy, it's not very user-friendly.
Sendible — This one will only make more sense for very large pet business companies. It has a search feature, trending keywords, curation of content, social media scheduling, and a rotating list for your content.
Post Planner — This one is super easy to use for your Facebook and Twitter accounts, it also has some suggested content and you'll find inspirational memes you can use on your own social media accounts.
Document Storage and Sharing:
Google Docs — Easy document storage and sharing. Great to use for ease in editing documents from your your blog writer, if you have one.
Finding Content for Blog Posts:
Google Trends — This lists the trending searches across Google and can be helpful for you to write cutting edge blog post articles about pets and pet care.
News360 — Pick your favorite pet or animal care topics, and this website will give you the top-trending articles about that topic.
Feedly — Add your favorite blogs and news sites to Feedly and you'll get all the headlines in one spot. Ahhh…
Help With Creating Content
Canva — A very simple graphic design tool that can help you create professional-looking images in a flash.
Animoto — Quick, fun video maker. With video becoming more central in social media, this can be a valuable tool for pet business owners.
Tools to Gain More Followers on Social Media
Crowdfire — This is a good follower management app for Twitter and Instagram. You can also quickly unfollow people who aren't following you back.
Hashtagify — This tool is great to discover what hashtags people are using in specific niches.
Tweetfull — this tool will help you automatically "favorite" tweets on Twitter based on your top keywords.
Analytics and Measuring Tools for Social Media Success
Google Analytics and Facebook Insights — really good -and free- tools. Also, be sure to check out the "insight" feature on Instagram for your Instagram analytics.
Union Metrics — In addition to the Insights feature on Instagram, this is a good analytics tool for that site too.
TweetReach — This is a no-cost tool for measuring the reach of a hashtag.
Union Metrics — In addition to the Insights feature on Instagram, this is a good analytics tool for that site too.
HubSpot — A comprehensive platform for larger businesses, note that the free account offers good competitive analysis too!
Sidekick by HubSpot — This will allow you email tracking and analytics for your Gmail or Outlook. You can also schedule emails which can save you so much time!