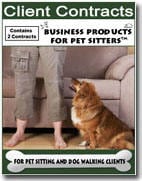 (Contains 2 single-page contracts) $55
These contracts have been developed and fine-tuned over the years by Kristin for her company use. What is available for you are 2 truly stellar contracts! With one contract specifically designed for your pet sitting clients and the other for your dog walking clients, these contracts are effective in creating a solid foundation and structure for your company. Whether your pet sitting or dog walking business is brand new or has been around for years, this contract will assist you in setting proven policies with your pet sitting and walking clients. The contract clearly defines both summer / holiday cancellation policies and cancellation policies during the less-busy months. Contract also includes setting clear boundaries for your clients regarding solicitation of your staff for their own use without your involvement. Protect your business that you've worked hard to develop and create.
In addition to the cancellation policy and non-solicitation of staff by your clients, this contract also details what will and will not be covered should injury arise to staff member or client animal. This contract can also serve as a template for you to add your own unique policies. Please note: by providing these contract forms, Kristin Morrison does not claim to provide legal advice. This contract will be sent to you immediately upon order. Don't wait another minute to set the foundation for your business!
Save $$! Also found in:
Business Start-up Kit for Pet Sitters and Dog Walkers
To add more items to your cart, simply go back to the Business Products for Pet Business Owners page.