Hello Pet Business Owner,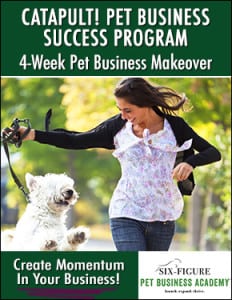 Are you running your pet sitting, dog walking or dog training business… or is your business running you?
Are you spending too much time bogged down in the routine tasks of your pet business… and not enough time actually enjoying what you do?
Do you feel like you deserve to have more ideal clients and make more money (hint: you do deserve it!)… but you're struggling to figure out exactly what's keeping your business from growing with ease?
If you are ready to rocket your pet business to the next level, click to find out more and to sign up now for the CATAPULT 4-Week Pet Business Program for Dog Walkers, Pet Sitters and Dog Trainers.
I look forward to helping you create unlimited success in your pet business this year,