I was purposefully late to the smart phone craze because I saw what it was doing to my friends and family (checking the phone can become an unhealthy obsession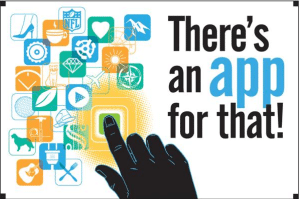 for many of us, can't it?).
But once I got it, I realized that the smart phone is a tool and we can choose to have it help our lives or hurt our lives (which can happen when we slip into that obsessive mode that all of us can get into from time to time).
Below are 9 apps that I wanted to share with you. Some of them will help you be more productive in your business and others will make living your life more fun, meaningful and rewarding. (Don't forget that we need to have a fun and meaningful life in order to truly thrive in business.)
1) Moment This is an app that will track your phone usage throughout the day. Especially helpful for those who find themselves compulsively checking their phones. You can also set this app up to track your entire family's phone usage (especially helpful if you want more quality non-screen time with your kids).
2) Freedom This app will block all distractions like social media (Facebook!) across all devices including your laptop and phone. You set the timer for how long you don't want to be allowed on certain sites in order to fully focus on the task at hand. Think of it like your mom in your computer. It works.
3. Coach.me You may find this app listed as 'Lift' (not to be confused with 'Lyft') on the app store. I love, love, love (a thousand times love) this app and use it daily. You set up items you want to focus on weekly and daily (Some of mine include: working out at the gym, hiking, drinking more water, creating a daily to do list, yoga, do a random act of kindness, etc.) You decide how many times you want to do each item each week and Coach.me will remind you about doing it. You check off what you've done each day. You can invite friends to follow your progress and you can follow theirs. I have found that my self care ramped up even more when using this app.
4. Sparkpeople Oh my. This app has helped me eat better (so important for running a business!), exercise more, lose some weight and even drink more water! Yes, it really is that amazing. Here's how it works: You track what you eat each meal and it counts calories, carbs and fat content of each item. If your prepackaged food item isn't listed in the Smartpeople database (and most are), it has a scanning bar that allows you to scan the food item to read how many calories, carbs, etc. are in that food item. I can't recommend this app enough. Because I'm tracking everything in this app it's created extreme consciousness for me around what I'm putting in my body and how much I'm moving my body. I just love it.
5) Insight Timer OR Headspace  Both these apps are great for helping you carve out time for mindfulness and meditation. If you have had difficulty in the past in calming your mind I recommend trying headspace as it's a fun and easy guided tutorial. If your challenge around mindfulness and meditation simply involves getting yourself still and quiet then the Insight Timer will be enough for you. Both have limited versions that are free. When you purchase the complete Insight Timer you can set what kind of bell you like to go off when you meditate (I really like that feature so it's worth the few dollars it costs). The Headspace app complete version requires a monthly fee. Try the free versions of each app first to see which one you like and if you are ready to dive in, it might be worth investing the money (when we pay for something we are more likely to actually use it!)
6) Podcasts I fell in love with podcasts when the "Serial" podcast came out (you may have heard your friends talking about it). There are many educational podcasts out there but for this blog I want to share some podcasts that are just downright fun. Podcasts are a great stress-reliever when you are out walking dogs or in your car driving to a pet sitting or dog training job. It's also a great way to simply relax after a busy workday. There's something about simply listening vs. watching and listening (like we do when we watch TV) that can calm the spirit and the mind. (And being free of stress helps us be more productive!) Here are some free podcasts that I HIGHLY recommend: Serial (as I mentioned this series hooked me on podcasts and it probably will hook you too. It's a great one to start with), This American Life (there are so many great segments but you might want to start with these episodes: The House on Loon Lake, Switched at Birth, and The Leap). And some other podcasts that you might find fun to listen to while you are driving or doing the dishes: Death, Sex and Money (oh my! this one! I just love it.), Invisibilia, RadioLab, and a new one I just discovered called This is Actually Happening–please note that some episodes are very disturbing so it's definitely not for everyone (and some episodes are way too much for me so I just move on to the next one). Oh and for this This American Life: I purchased a special app for This American Life ($4.99) so I could have access to all the archived episodes. If you get hooked on This American Life, you might want that special app too. Oh, and did you know that I have a podcast out? Yep! It's called Prosperous Pet Business podcast and you can get the episodes delivered to your smart phone on iTunes or you can listen to it on the Prosperous Pet Business podcast page.
7) Quicken or Quickbooks (or whatever financial software program you use). If you are new to the world of pet business and aren't using a financial program yet I recommend starting with Quicken as it's easiest for those new to financial computing. Both Quicken and Quickbooks have apps that allow you to scan receipts to keep track of your expenses and jot down your expenses in the system very quickly and easily. If you have been in business for awhile and don't have your financial program also on an app, I recommend that you get that app as soon as possible as will be a big time saver when it comes to your accounting.
8) Waze This app is great because if you are headed to a client's house you can see where the traffic might be that would cause you to be late. This app also allows you to see if there are any cops in the area in case you are prone to speeding or doing the 'California stop' at stop signs. Getting pulled over always makes being late an even worse experience. (Please note that cops are trying to get their visibility from being shown on the app but so far haven't been successful in having that feature removed.) Because this app will show you the shortest route possible this app will save you time, gas (and face, if you are running late).
9) Wunderlist Got a lot of To Dos on your plate? This app will help you organize and prioritize. And it syncs to your computer and your smart phone so whether you are at home or out and about you can keep track of what needs to be done and when. Start with the free version and if you love it and want the extra features then it might be worth it to purchase the business or pro version.
Happy app-ing!