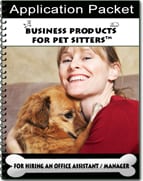 (Contains 8 pages) $75
Here it is! Kristin's coaching clients have been asking her for years to make her application packet for the office manager job available and here you go. This Application Packet for Office Assistant/Office Manger is as impactful as the Application Packet for the New Staff Member. This packet will truly help you hone in on what it is you are really looking for in an office person. It will start you on your way to hiring that special person who will manage your beloved business so you can have a well-needed break.
Specifically developed for the needs of pet sitting business owners (and the odd hours we answer phones and such) this packet will make it clear which applicants are suitable for this job and which are not. We all need a little clarity especially when we are in the hiring process for this important job of replacing ourselves when we need a break! Order today and get started in the hiring process tonight or tomorrow.
Save $$! Also found in:
Pet Sitting Office Manager Hiring and Training Kit
To add more items to your cart, simply go back to the Products for Pet Business Owners page.