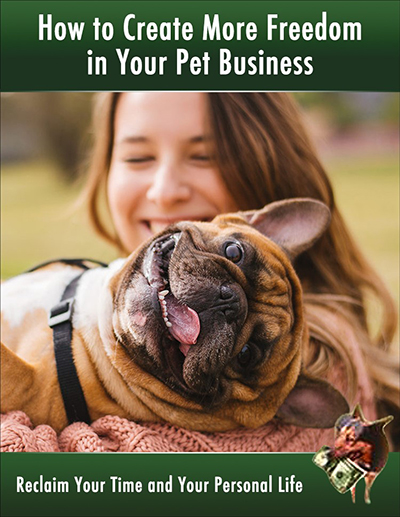 (Webinar recording will be delivered to your email within 60 seconds of ordering.) $20
Hi. This is your life speaking. You think that having a pet sitting business means not having a life but guess what? I'm still here. And I want you to pay attention to me and give me my most precious commodity: time.
So many pet sitting and dog walking business owners equate having a business with being leashed to their businesses and/or not having a life. But guess what? It's just a belief. You can change the way you run your business and thus, change your life.
Hi. This is Kristin speaking. Guess what? I used to have a pet sitting business but no life. I was pretty unhappy. I cringed when the business phone rang (not good when you are trying to build up your business). I frowned a lot. I had no time and was pretty stressed out.
But then I shifted some beliefs about what business ownership involved and took action to change some key ways of running my pet sitting business, which profoundly impacted my pet sitting and dog walking business and my life in such a positive way. Within a very short period, I suddenly had more time. More energy. More money. It was mindblowing!
I share my process and some tangible steps for you to create more freedom within your own pet sitting and dog walking business in this recording.
Ready to have a business and a life?
This recording is over an hour in length and will be emailed to you in mp3 format and is available for immediate download and immediate listening on your computer NOW. You can also burn this mp3 recording onto a CD so you can listen and learn while you are driving to a pet sitting or dog walking job. How's that for easy?
Order the How to Create Freedom in Your Pet Sitting Business and get started on creating a life and a business beyond your wildest dreams today!
Click to get back to the Business Products for Pet Sitters page