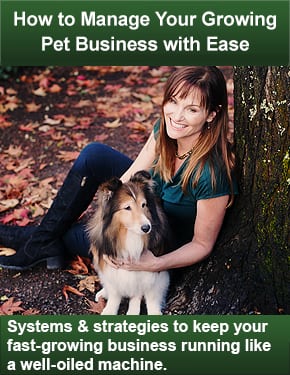 (Webinar recording will be delivered to your email within 60 seconds of ordering.) $20
Has your pet sitting, dog training or pet grooming business grown faster than you can keep up with it?
Are you grappling with how to handle all those client keys and paperwork?
Feeling unsure when would be the right time for you to hire pet sitters, dog walkers, dog trainers and other staff members to help you in your pet business?
If so, you are not alone.
Pet business owners who experience a lot of business growth in a short period of time often experience massive growing pains. Rapid growth spurts sometimes take the enjoyment out of experiencing business success. It can also lead to poor customer service, a bad reputation, and a frazzled business owner (you).
It doesn't have to be that way.
There are specific steps you can take to create more ease in your growing pet business. And if you want more success, there are also concrete steps you can take now to prepare the foundation for ease in business growth.
By listening to this recording you will learn:
The #1 mistake that pet business owners make when it comes to running their rapidly growing pet business
What contributes most to ease in your business and why
The top concern for pet owners and how you may not be addressing that need when you grow too quickly
Why working less in your business can actually help you make more money (and have more ease)
How to run your rapidly-growing business in an ease-filled way that doesn't compromise quality over quantity
And more!
You will also receive a bonus tips and tools sheet for how to mange your growing pet business with ease.
This recording is over an hour in length and will be emailed to you in mp3 format and is available for immediate download and immediate listening on your computer NOW. You can also burn this mp3 recording onto a CD so you can listen and learn while you are driving to a pet sitting or dog walking job.
Order the How to Manage Your Growing Pet Business with Ease Recording and enjoy your business and your life again!
Click to get back to the Business Products for Pet Sitters page