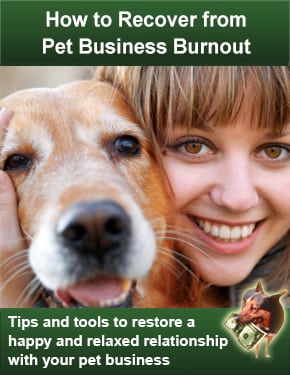 $20
Burnout. It's something most pet sitters, dog walkers, dog trainers and pet groomers face at some point in their pet business career and it can be very damaging for both your business and your personal life.
If you find yourself annoyed when your business phone rings, feel fried and frazzled while returning client emails, if you are usually eating on the run (and nearly always in the car on the way to a pet care job), and find yourself getting upset at petty things that previously did not really bother you, you are probably burned out.
Service-based businesses can drain the life force out of even the strongest of pet care providers if we are not careful.
There are simple steps that pet business owners can do to avoid burnout before it even starts. And if you are already suffering from burnout, there are immediate actions you can do now to quickly recover from burnout and gain control of your time and your life.
Your business is meant to help you thrive and prosper. A business that is run well gives you energy and joy rather than taking it away from you.
In this webinar I'll share tips and tools to run your pet business so it doesn't 'beat you up' and I'll help you quickly recover from burnout (and prevent it from ever showing up in your life again).
Need a burst of good energy and a shot in the arm to renew your motivation and inspiration in your pet business? This webinar will help you get back to your 'happy place' in your business and your life.
In this webinar recording you will learn:
What item needs to go on your to do list everyday to prevent burnout
The 4-word phrase that every pet business owner needs to say to certain (difficult) clients
What makes pet business owners more prone than most to burnout
Signs that you are headed for burnout and how to avoid it
What needs to be the #1 priority in your business and why
Why focusing on something completely unrelated to business can increase ease (and profit) in your business
Steps you can take now to quickly get back to your 'happy place'
And more!
This webinar recording is over an hour in length and the replay link will be emailed to you for immediate viewing and listening on your computer NOW.
Order the How to Recover from Pet Business Burnout webinar recording today and begin the recovery process today. There is hope!
To add more items to your cart, simply go back to the Products for Pet Business Owners page.