A couple years ago I was (ouch!) paying $95/month to AT & T for my office landline.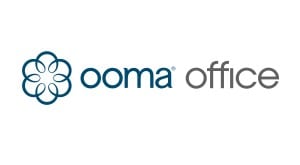 I really like having a landline because I've found the reception is clearer than a cell phone and I like having a 'real' business phone in my office.
But I didn't like paying $95/month for that real business phone!
I'd been reluctant to switch to another phone carrier thinking it would be a hassle. I told a friend about this and he says, "You have to try Ooma!"
Ooma?
What a strange name. 🙂
But he raved about how easy the Ooma phone system was to set up and how inexpensive it was. So I tried it. It took me only a few minutes to set up (and it was super easy to set up). Within a month I was saving over $70 a month on my phone bill. No joke!
One of the most common challenges that pet business owners face is how to project a polished, professional image. How can Ooma Office help them?
Believe it or not, your phone system can help you put your best foot forward. In today's world you can utilize the power of the Internet to access business phone features and services that used to be exclusive to big companies. The advantage of switching to a VoIP (Voice over Internet Protocol) phone solution is its' low cost and flexibility to adapt to the way you do business.
Of the many VoIP phone solutions available, the best one that I've found is Ooma Office. It leads the pack with unlimited calling throughout the U.S. and Canada and offers a range of features including extension dialing, analog and digital faxing and conference calling.

And get this: Ooma Office includes advanced features too, like a virtual receptionist (yes, you read that right!) that automatically directs callers to the right extension, the ability to have multiple phones ring from one extension (powerful feature especially if you are out walking dogs or have managers who are working from their home office!), and forwarding voice mail messages as audio files to your email.
So I decided to have an interview with the folks at Ooma so you could get to know this great phone company (and yes, Ooma Office comes with a virtual receptionist, how's that for a cool feature?)
Q. How much does Ooma Office cost each month and how much can pet business owners save?
A. Service starts at only $19.95/month and includes a local or toll-free phone number of your choice, a virtual fax extension, and a conference extension. Add additional user(s) for only $19.95/month each.
Q. How can Ooma help pet business owners take their business to the next level?
A. The first and most important way Ooma Office helps your pet business is by saving you time and money, both of which can be diverted into improving your business' billable hours and financial health. If you use a traditional phone service and depending upon the number of lines and features you could save hundreds of dollars a month. That money could be spent on getting customers.
Q. What are some of the features that might help owners run their pet business?
A. Ooma Office has features to help you stay connected to your business like creating mobile extensions that route calls off-site to mobile phones or home offices, and multi-ring to ring two phones at the same time to ensure your business never misses a call. The virtual receptionist can be enabled to communicate business hours, directions or other frequently provided information freeing up valuable time during your busy day. Conference calling is easy so you can patch in your client and a staff member in the field or a Vet in an emergency. If you have a question, there's 24/7 assistance if you need it.
Q. How long does Ooma Office take to set up?
A. Ooma Office set-up is so easy you can do it yourself in less than 30 minutes. And you can use your existing regular business phones.
At the end of the day, if you're looking for a small business phone system with exceptional voice quality, the flexibility to grow with your business over time, the ability to stay in touch while you're away from the office and ease of set up and use, look no further than Ooma Office. Click to find out more about Ooma Office and start saving money now on your business phone line!