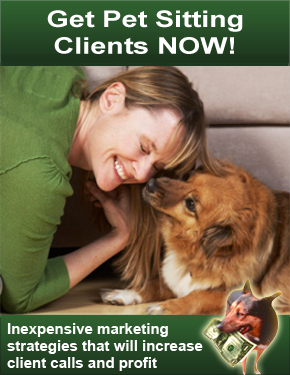 (Webinar recording will be delivered to your email within 60 seconds of ordering.) $20
Marketing. It's a word that often causes business owners to groan.
There are so many advertising options and a lot of those options are expensive. Google ad words. Pay-Per-Click advertising (also called PPC). Pet sitting directories. Online Yellow Page advertising. Search Engine Optimization (SEO). The list goes on and on of possible marketing options available to pet sitters.
What really works though?
What do you really need to do to have your business phone ring with many new client calls month after month?
Whether you are new to pet sitting, have been pet sitting for years or are not a pet sitter but some other type of pet business owner, you will learn exactly what you need to do to do to market your business in a potent, powerful way that generates results.
Even though this recording was originally for pet sitters, it applies to every pet business owner, whether you are a dog trainer, dog groomer, or doggy day care owner.
Kristin Morrison, the founder of the Six-Figure Pet Business Academy has coached hundreds of pet business owners from around the country on how to get their business phones to ring with new client calls and now she's here to help you do just that.
You will learn:
What is an absolute must when it comes to online advertising
Why adding a couple of words in your business name will dramatically increase the amount of business you can get
Top 5 inexpensive advertising options that will generate results for your business.
Simple steps to increase your search engine ranking on Google
Free marketing strategies that will rocket you to success
Why making one (little) change will make all the difference
Inexpensive advertising solutions that cause your phone to ring
And much more!
You will come away with:
A marketing strategy that you are excited to implement immediately
A list of over 75 FREE websites to market your pet business business online
A clear knowing of what works when it comes to marketing and what doesn't
Inexpensive ideas, tips and tools to launch your new or existing pet business to success
This recording is over an hour in length and will be emailed to you in mp3 format and is available for immediate download and immediate listening on your computer NOW. You can also burn this mp3 recording onto a CD so you can listen and learn while you are driving to a pet sitting, dog walking, or dog training job. Or if you are a pet groomer, you can play it in the background while you shave that poodle!
Order the Get Pet Business Clients Now: Marketing that Works recording and begin getting more clients today!
Want to add more items to your cart? Click here to get back to the Business Products For Pet Business Owners page.