Top Pet Business Experts Give YOU Their Insider Knowledge In These Strategy-Packed Conference Videos!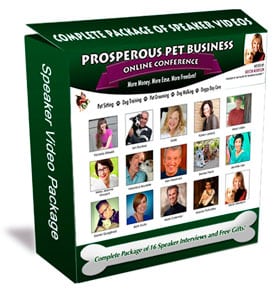 Each of the 17 information-filled speaker videos in this conference series was only available to conference attendees for 24 hours… but when you purchase this in-depth training collection today, you'll get every single video in the series delivered to your email inbox immediately upon order… and have unlimited access forever!
These videos are perfect for you if you've experienced any of these frustrations:
You are a pet sitter, dog trainer, pet groomer, doggy day care owner, or dog walker… and you find yourself thinking and worrying about your business even when you're not working
You struggle to make the kind of money you want from your business…and you're not sure how to boost your sales and profits
You find it hard to get (and keep) clients… even though you offer a service that lots of pet owners need
You feel like you're on the fast track to burnout… and desperately need a change
You've got so many clients that you've lost the enthusiasm you had when you started your pet business… and almost dread going to work some days
You are a new pet business owner and wish that you could find someone who could help you market more efficiently, make more money, and enjoy running your pet business
With the wealth of knowledge contained in these videos, you don't have to struggle anymore!

The 17 training videos are only $147!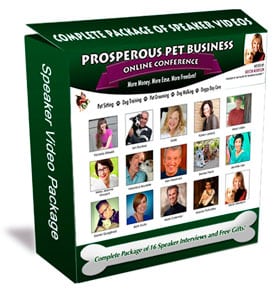 You Deserve to Own a Profitable, Fulfilling Pet Business… and the Freedom to Enjoy Your Life!
When you have access to this simple, on-demand resource that can turn your business around (and give you your life back) in a matter of days…
You'll feel empowered, knowing that you no longer have to struggle to grow and run your business
You'll feel optimistic, knowing that your business is generating the income you need to provide a comfortable lifestyle for yourself and your family
You'll feel relaxed, knowing that you don't have to spend every minute of your life worrying about your business… or being tied to your smartphone waiting for the next emergency
You'll feel relieved, knowing that you can finally take a weekend off, or even (gasp!) enjoy a vacation without coming back to chaos
You'll feel enthusiastic about your business once again… and excited to get to work with pets every day
If You're Ready to Rekindle Your Love for YOUR Pet Business… You Owe it to Yourself to Purchase the Videos from the "Prosperous Pet Business Online Conference!"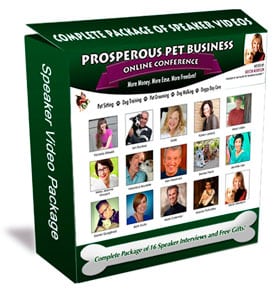 Here's a Sampling of What You'll Learn in the Videos…
You'll discover how to make more money from your business easily, so that you can enjoy the income and lifestyle you deserve
You'll find out how to create more freedom in your business so that you can spend less time working and more time experiencing a fulfilling life
You'll learn simple techniques for reducing stress, so that you can approach your work with enthusiasm and joy
You'll discover how to create a healthy lifestyle around your business, so you can have more energy and get more out of life
You'll learn how to leverage social media to build a following of loyal customers more easily than you ever thought possible
You'll get simple, powerful branding techniques, so that you can make your business stand out from your competition
You'll discover one strategy that can exponentially increase your income with minimal work (and find out how to determine if this strategy is the right move for your business)
And much, MUCH more!
Think of this video collection as your personal pet business reference library… a pool of inspiration, advice, and expert "how-tos" you can use anytime to build a better, more enjoyable pet business!

Check Out This Line-Up Of Expert Speakers:
Victoria Stilwell
"Calm Aggressive Dogs and Walk Without Fear with Victoria's Dog Training and Behavior Secrets"
Jennifer Lee
"Creating a powerful Pet Business… From The Right Side Of Your Brain"
Kristin Morrison
"How to Find and Hire the Best Staff Members and Keep Them for Years To Come"
Marcia Prohofsky
"How to Mak Healthy Dog Treats For Your Dog (and For Client Gifts!)"
Daniel Quagliozzi
"Looking to Add Cat Care to Your Pet Business? Use These Simple Tips To Become More Cat Savvy and To Grow Your Existing Cat Service"
SARK
"How to Get the Spark Back in Your Business To Reenergize and Create a Succulent, Thriving Business"
Beth Shultz
"How Community Involvement Can Substantially Boost Your Pet Business"
Karen Leland
"How to Create A Powerful Brand To Gain More Clients and Make More Money"
Marc Allen
"How to Use The Millionaire Mindset To Change Your Business – And Your Life"
Veronica Boutelle
"Out-Of-The-Box Marketing For Pet Business Owners"
Kristin Morrison – BONUS EXTRA VIDEO
"Get Pet Business Clients NOW – Marketing That Works!"
Mark Coleman
"How Practicing Mindfulness Can Help You In Your Pet Business (And In Your Life)"
Special Interview with Lil BUB and Mike Bridavsky
Denise Fleck
"What Every Pet Business Owners Needs To Know About First Aid…"
Ken Newman
"How to Make Your Pet Business Stand Out At Pet Fairs and Other Local Pet Events"
Mary Jeanne Vincent
"Simple Ways To Use LinkedIn To Optimize Your Pet Business and Get More Clients"
Ian Dunbar
"Q & A with Ian Dunbar: The Dog Training Legend Shares His Most Valuable Insights For Pet Professionals"
Get the Prosperous Pet Business Online Conference Videos Today!
If you're tired of having your pet business run your life… and you want to finally enjoy the income and relaxed lifestyle YOU deserve… get this exclusive collection of 17 information-packed videos now and discover what it feels like to take control of your business today!
I look forward to helping you create more money, freedom, and ease in your business and your life,

Yes! I want to make more money, have more freedom, and make my pet business stronger than ever. I'm taking control of my business by purchasing the Prosperous Pet Business Online Conference videos today!
P.S.: You're getting more than ten hours of rock–solid tips, strategies, and insights from some of the industry's leading pet business professionals when you buy unlimited access to this speaker videos today. If you wait to get permanent access to all of these 17 value–packed training videos, you'll have to invest $147. If you're like me, saving $50 is a pretty great feeling… so lock in your order and save some cash today!