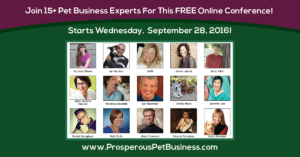 Are you a dog walker, pet sitter, dog trainer, pet groomer or dog daycare owner? The 2016 Prosperous Pet Business Online Conference starts on September 28, 2016 and it's FREE.
Join pet business experts including Ian Dunbar, Victoria Stilwell, Pet Sitters International and more!
The pet business conference goes from September 28 to October 11, 2016. When you sign up you'll receive daily speaker interviews filled with tips and tools you can use immediately to generate more profit and ease in your pet business.
Click to find out more and to sign up now for the pet business conference.