In 2011, I became a certified Best Year Yet coach and now, one of the primary focuses of my coaching with pet business owners has been to provide Best Year Coaching with them to create powerful shifts in their business and their lives.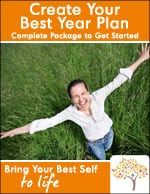 What that means is simply: I help you create the best year you've ever had in work and in your personal life.
In a nutshell, here's how the Best Year process works:
1. Together we explore your roles, goals, values.
2. In 3 hours we create your most powerful annual plan.
3. We work together monthly to keep you on track.
4. In 12 months you've lived your Best Year ever!
Want to find out even more information and create your Best Year ever?
It's for ANYONE who wants to create the best year of their life–including YOU.
Click to find out more and to sign up for Best Year Yet Coaching for Pet Sitters, Dog Walkers and Dog Trainers.