Hi there, pet business owners!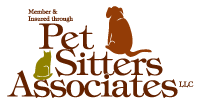 I wanted to share with you that we are so happy to have Pet Sitters Associates as a Platinum Sponsor for our 2016 Prosperous Pet Business Online Conference!
Don't know who Pet Sitters Associates is and what they do?
This information below will help you get to know this GREAT company:
Q What is Pet Sitters Associates?
A. We started Pet Sitters Associates in 1998. Our philosophy has always been to help individuals throughout the United States start up their pet care businesses at the most affordable rates possible. Pet Sitters Associates proudly offers membership benefits that include pet business insurance administered by RPS Scobie Group and underwritten by an AM Best rated: A (Excellent) Insurance Company.
Q. What is the cost of the basic membership, which includes liability insurance?
A. The cost is $190 for membership and insurance through Pet Sitters Associates. The membership and insurance is good for one full year from the time of joining and can be effective immediately at www.petsitllc.com.
Q. What are the member benefits?
A. You will gain access to a library of resources including our customer checklist and archived newsletters, quarterly newsletters, and the option to be listed on one of the largest online pet business directories and pet business liability insurance.
Q. What is the cost if we have additional partners/spouse/employees?
A. The cost is $90 for each additional person on your policy.
Q. What type of pet care business does the basic liability cover?
A. It covers pet sitting in the pet owner's home, pet transportation, pet walking, and pooper scooper services.
Q. What if I bring animals into my home?
A. Members need to purchase the optional pet daycare coverage to extend the liability insurance to cover incidents at their home or pet daycare operation. The cost for this additional coverage is $155 and can be added for up to 3 employees/ICs.
Q. Do you offer a bond?
A Our Broadened Property Damage/Bond coverage costs an additional $100. This coverage provides $10,000 per occurrence or $25,000 of insurance coverage annually for the theft, breakage, and mysterious disappearance of the personal property of the pet owner while under the care of you, your employees, your independent contractors, or your incidental helpers. Please note if you do not purchase this additional coverage, there is no coverage under your basic membership policy for loss, damage, or theft of the owner's personal property.
Q. What if I do any housesitting without animals?
A. You would then need to add the house sitting coverage for an additional $100. House sitting without pets present cannot exceed 45% of the total pet care business revenue.
Q. What about grooming?
A. Pet grooming coverage for an additional $50 would need to be added. This coverage provides basic insurance for individuals who cut hair or nails while pet sitting. If you are only bathing and brushing pets, there is no need for you to purchase this.
Q. Do you have any type of coverage for Obedience Training?
A. Yes, our dog obedience training coverage costs an additional $155. If you are only offering basic dog obedience training (sit, stay, come) when provided in direct conjunction with your pet sitting work, you are already covered under your basic membership insurance. This coverage is for those who offer training outside of their pet sitting work. This policy does not provide coverage for protection, guard, fighting, attack, or police dog training.
To find out more and sign up for membership today visit Pet Sitters Associates online today: www.PetSitLLC.com