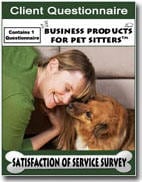 (Contains 1 single-page questionnaire) $35
Finally! A simple and effective client questionnaire that will give you the feedback you want and need to run an excellent pet care company! Clients will appreciate its simplicity, especially after returning from a long trip. Leave the questionnaire behind on your last pet visit for clients to fill out or you can mail or email to your clients along with their bill.
This also allows you to receive the positive feedback about you and your staff that you might otherwise not hear. (Big head deflator not included!) Also includes a spot for clients to give permission to be a referral for your company should you need or want that in the future. This client questionnaire is perfect as is or you can customize it to fit your business needs.
Order today and find out how well your company is doing tomorrow!
Save $$! Also found in:
Business Start-up Kit for Pet Sitters and Dog Walkers
To add more items to your cart, simply go back to the Business Products for Pet Business Owners page.