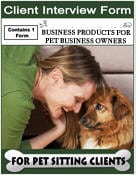 (Contains 1 single-page intake form) $15
If you are anything like me you want a pet sitting client interview/intake form that will help you easily and effortlessly gather all pertinent client information but won't keep you at the client's home for hours asking questions that don't even apply to the job.
This client interview form takes minutes to fill out; not an hour like some client interview forms out there.
Simple. Easy. Quick. Thorough.
Four words that describe this client interview form for pet sitting clients.
Why waste a second more on client interview forms that are time-consuming and not useful for your business? Order this intake/interview form for Pet Sitting Clients today and you'll get it delivered to your email box immediately so you can start gathering the necessary information from your pet sitting clients right away.
Save $$! Also found in:
Business Start-up Kit for Pet Sitters and Dog Walkers
Business Hiring Kit for Hiring Pet Sitting and Dog Walking Staff
To add more items to your cart, simply go back to the Products for Pet Business Owners page.