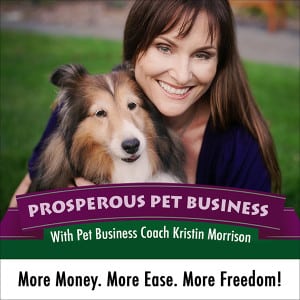 Hi pet business owners!
I'm so excited! My podcast for dog trainers, pet sitters, dog walkers, pet groomers and doggy day care owners is now available on iTunes!
You can find it on iTunes by searching for "Prosperous Pet Business". When you click the 'Subscribe' button on iTunes, you'll have the new episodes delivered to your smart phone as soon as they become available.
Or you can click to go straight to iTunes now to subscribe and listen to the Prosperous Pet Business podcast.
Are you someone who doesn't use iTunes? No problem! You can get access to the episodes by going to the website of Prosperous Pet Business.
~ FAQ About The Podcast~
Q. How do I find and subscribe to the Prosperous Pet Business podcast on iTunes?
It's easy! Go to iTunes and search for "Prosperous Pet Business". If you don't have an account on iTunes, you will need to sign up for one (it takes less than 2 minutes). When you find my podcast, be sure to click the 'subscribe' button to receive the weekly episodes or you can click here to go to the Prosperous Pet Business Podcast.
Q. What are some of the 'goodies' that pet business owners will get as a result of listening to the Prosperous Pet Business podcast? And where can I get those goodies?
During each episode you'll hear me mention a website address that contains 'show notes' where you will find links to goodies that I mention during each segment. (This will make more sense once you listen to one of the podcast episodes–I recommend starting with Episode #1.)
You'll also have the opportunity to connect with me and other pet business owners at the bottom of each podcast show note page through comments via Facebook and other commenting methods at the bottom of the episode pages. You'll find the podcast episode show note pages to be interactive and fun!
Q. How is the podcast different from your monthly webinars? 
The first difference is that the podcast is audio only whereas my monthly webinars are both audio and video.
Also, on my monthly webinars I dive deep into business-specific topics like hiring pet sitters, pet business start up, and SEO for pet business websites.
On the weekly podcast I will touch upon different business topics while also weaving in my life coach training to help you create a holistic, empowered approach to business. In the weekly podcast I incorporate mind, body, spirit combined with business logistics to help you thrive in your business and your life.
Q. I've never listened to a podcast. How and where can I listen to your podcast? 
Rest assured, it really is easy. Simply click this link to find the Prosperous Pet Business Business Podcast on iTunes and you'll have the opportunity to subscribe. Hit the "subscribe" button and you'll get weekly episodes delivered to your inbox.
Once you've subscribed to the podcast you can listen to the episodes on your computer or (if you prefer) on your smart phone while you are driving to a dog walking or dog training job or in your pet sitting office. My podcast is portable. You can take me wherever you go. 🙂
(Personally I enjoy listening to podcasts when I'm hiking, doing the dishes or at the gym. In the first podcast episode you'll hear me describe what got me hooked on podcasts and where I like to listen to them.)
Q. I've heard that you'll be coaching pet business owners on some of the upcoming podcast episodes. I really need some help in my pet business! How can I be one of those pet business owners to get some complimentary coaching from you on the podcast? 
Yes! I'm very excited to be offering some podcast listeners the opportunity to be coached by me on an upcoming podcast coaching episode. If you have a pressing issue that you are grappling with in your pet business, please write a few sentences about your business challenge at the bottom of one of the show notes pages that I mention on the podcast episodes.
Those who write a short description of their business challenges and include their contact information on one of the show notes pages will be considered for the upcoming coaching podcast segment that I will be recording in a few weeks.
(Due to the volume of emails I receive from pet sitters, I ask that you please don't contact me directly about being on one of the coaching podcast segments. Only those who write their challenges on the comments section at the bottom of the podcast show note pages mentioned in the podcast will be considered for upcoming coaching episodes. Thanks so much for understanding!)
Ready to create your best year yet? I recommend starting with Episode #1:
I am really looking forward to reading your comments, topic suggestions and business challenges at the bottom of the show notes podcast page (again you'll hear the special website address for the show notes and goodies when you listen to the podcast episodes).
Happy listening,