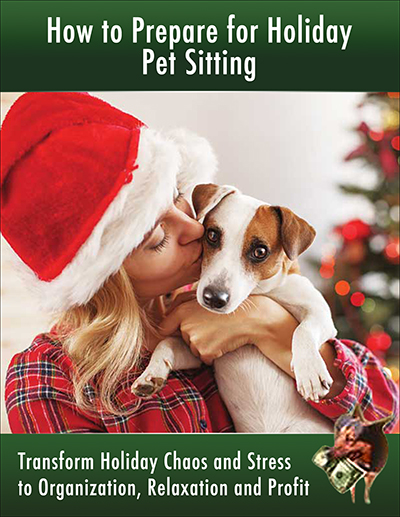 (Webinar recording will be delivered to your email within 60 seconds of ordering.) $20
Okay, so most of you are smart pet sitters who are aware that you can (and probably will) make more money over holiday periods than you can over a non-holiday time but did you know that you can make $500-$1,500 MORE this holiday season than you made last year during the same holiday period?
This holiday-focused webinar was recorded live with an audience of 26 pet sitters from around the country. This webinar will transform the way you do business during the holidays (and give you lots of tips for those non-holiday times too!) It's not about working harder—it's about working smarter and this recording will show you how to catapult your business sales while increasing the level of peace that you want to feel during the holiday season. Holidays don't have to be stressful for pet sitters. Find out how you can have a great holiday…and make lots of money in the process!
Kristin is an expert in creating prosperity and ease in business over the holiday season: she's worked a lot of holidays since she started her pet sitting business in 1995! Now she's passing her experience and business savvy onto you. Ready to make it a great holiday season for yourself and your business?
In this hour-long Holiday Webinar recording you will find out:
How to EASILY and EFFORTLESSLY make up to $1,500 MORE over the holidays
Step-by-step instruction on how to create a relaxing holiday for yourself and make a lot of money while enjoying yourself
How to best prepare yourself, your staff and your clients for the holidays (with segments devoted to each of these areas).
Where to find inexpensive and memorable gifts for your human and furry clients!
Proven tips from Coach Kristin on how to make your holiday season flow smoothly in your life and in your business-it's about ease and joy!
Holiday Question and Answer Period with Coach Kristin
And MORE…
This hour-long webinar will be emailed to you in mp3 format and is available for immediate download and immediate listening on your computer NOW. You can also burn this mp3 recording onto a CD so you can listen and learn while you are driving to a pet sitting or dog walking job! Order the Holiday Webinar Recording today and have your holiday questions answered right now!
Save $$! Also found in:
Webinar Combination Package for Pet Sitters
Click here to get back to the Business Forms for Pet Sitters page.