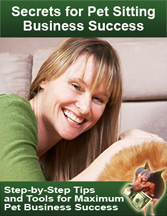 (Webinar recording will be delivered to your email within 60 seconds of ordering.) $20
There is a formula for pet sitting business success and if you know that formula then succeeding in business is a piece of cake.
In a clear, step-by-step format, Kristin Morrison, founder of the Six-Figure Pet Sitting Academy™ outlines in her trademark direct and concise way exactly what is needed to create and/or run a successful pet sitting business.
There are 8 slices of a pet sitting business pie. When you look at those slices individually and as a whole that knowledge can and will help you create a wildly profitable and successful pet sitting business!
It"s not about working harder. It"s about working smarter. It"s learning what is needed to succeed in business and with that knowledge you will be able to powerfully run your pet sitting business in a way that generates profit and is filled with ease.
By listening to this recording you will learn:
What contributes most to pet sitting business success and why
How to grow your business easily and effortlessly
The #1 concern for pet owners and how you can address that need
Free and low-cost marketing strategies that will rocket you to success
What you must let go of in your business in order to create success
Fool-proof methods to working smarter instead of harder
You will come away with:
An action plan to create and/or maintain your successful business
A clear knowing of what marketing works and what doesn"t
Inexpensive ideas, tips and tools to launch your new or existing pet sitting business to success
Strategies for growing your business without compromising service
How to create more money with more ease
Tips and tools list provided by Kristin which outlines her success secrets
This recording is over an hour in length and will be emailed to you in mp3 format and is available for immediate download and immediate listening on your computer NOW. You can also burn this mp3 recording onto a CD so you can listen and learn while you are driving to a pet sitting or dog walking job. Order the Secrets for Pet Sitting Business Success Recording and get started on creating success in your business right today!
Order the Secrets for Pet Sitting Business Success recording and get started on creating more clients for your business now.