Go from stress and exhaustion to creating a life and pet business you love with this transformational audiobook…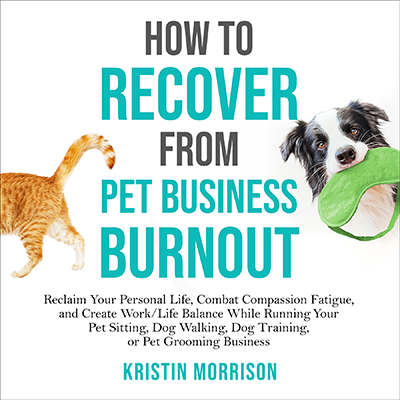 Order the Audiobook Today!
How to Recover from Pet Business Burnout AUDIOBOOK
Reclaim Your Personal Life, Combat Compassion Fatigue, and Create Work/Life Balance
You've put hard work, time, and energy into building your pet sitting, dog walking, dog training, or pet grooming business. If keeping up with everything has you feeling stressed out, overworked, and overwhelmed, this audiobook is for you!
In this audiobook, you'll unlock the solutions you need so you and your pet business can move beyond overwhelm, stress and fatigue.
Transform Your Business and Your Life with the
How to Recover from Pet Business Burnout audiobook
This Audiobook Will Help You:
Order The How to Recover from Pet Business Burnout Audiobook TODAY!
When you pre-order How to Recover from Pet Business Burnout, your eBook will be delivered to you on
April 15, 2021
The How to Recover from Pet Business Burnout audiobook for $25 — order your copy today. 
Order the audiobook for only $25!
After that, the price goes up to $24.95.
See What Other Pet Business Owners Like You Are Saying About How to Recover from Pet Business Burnout…
"I loved reading this book because it made me realize a lot of things that I was muddling through and needed to stop doing that. It had a lot of things that made me open my eyes up and make my life easier. Work smarter not harder! There are so many ideas, tips, tricks, books, and different things to help you. It was such an easy read. Kristin allows you into her own personal burnout experience and gives you the inside view on proven things that can work for you. Even if you take one thing away from this book and work on that, you and your pet business will be better off. I am already working on putting things into places to ensure my business success and no more burnout! Do not pass this book up if you are experiencing burnout!"
"Wow! I can't say enough great things about Kristin's latest book. She not only addresses what to do if you are currently experiencing burnout, but also how to prevent burnout from happening, which is so important for people in the pet care industry (and beyond!). Kristin also shows how to deal with burnout in your work and personal life and how to get to the root of those issues. Kristin's book has been a game-changer for me and gives me the tools to live a better life. I will definitely be recommending to all of my pet business friends. I honestly do not think you could balance a successful business and personal life without the information is this book!"
"Kristin's latest book is a must-have for anyone feeling burned out or depleted in their pet business, or any business for that matter. Whether you are struggling with time management, work/life balance or finances, at the end of each chapter Kristin provides practical and actionable steps you can start using today."
"I left my corporate job in 2018 due to burnout after 30 years, and started my own pet care company to improve the quality of life for my family and myself. While recovering from that burnout and finding guidance for my new path, I did a lot of digging and research on my own, and discovered some of the techniques that Kristin shares in one single place in this book. With the significant changes to our lives and the pet care industry because of the 2020 pandemic, I have been feeling somewhat lost and adrift, even though my business is presently "okay." Kristin's book provides practical suggestions and plans for taking steps to feel more in control of yourself and your business, so that you can recover from or prevent burnout, and grow yourself and your company. Each chapter also includes great stories from others who have also been through burnout and made it to the other side, and the Action Items that Kristin provides are great exercises to get you moving in a positive direction. Having read the book and worked on several of the Action Items, I can say that I'm feeling more refreshed and hopeful than I have in months. Thank you, Kristin!"
"This book could not have come at a better time for me personally and professionally. I have struggled this year, not just from the pandemic but in general. I started coaching sessions last year with Kristin which helped me focus on ways to restructure my business. A few weeks ago, I had the honor to be selected by Kristin to be one of the first readers of her new book,
"How to Recover from Pet Business Burnout
". I started reading and just like that…I was hooked! It was as if Kristin was speaking directly to me. I began to understand why I was feeling so withdrawn and overwhelmed at the same time. Not only was I experiencing all the hardships of the pandemic, but I was completely in "burnout mode" and had not realized it. Entrepreneurship can be difficult and without the right tools, you can become overwhelmed.
This book gives you the right tools to step back, evaluate, and restart your engine. Through new ideas on how to run my business and not let it run me, self-care tips, and ways to calm my inner self I can now see a light at the end of the tunnel. For me, the most important parts of this book were letting go of negative beliefs and learning to incorporate affirmations to get the things I desire. My personal and professional life feel back on track again."
"This book absolutely could not have come at a better time! I was starting to feel like I was really struggling which was affecting my personal life and if left unchanged would have certainly affected my business, I had already tried putting some steps in place to help, but I have found this book is really encouraging me to make positive changes, and some that I wouldn't have even thought of before reading this!
I love how each chapter offers something different to consider and each action step is clearly laid out and easy to follow. I also feel comforted reading more about Kristin's story, as well as other pet professionals, it's really nice to know you're not alone!
I have already started implementing some of Kristin's suggestions, after months of feeling burned out I feel like I am starting to de-stress and gain a better insight into how to best help myself, and in turn help my clients even more!
If you are already feeling burned out, if you could be heading that way, or if you know anybody else who may be, I highly recommend this book! Thank you, Kristin."
"I love the way this book takes the focus off the mundane day-to-day dealings of running a business and instead focuses on the mind, body and spirit. So full of great ideas and tips to keep myself going with positivity. I am so excited to incorporate much more into my daily practice!"
"Kristin does a wonderful job of allowing the reader to tailor the information in this book to their own individual needs and specific situations. Her honesty and personal stories help the reader to recognize their own feelings of burnout. Kristin provides the reader with easy-to-follow action steps to help the reader take charge and positively get to the other side of their own fatigue."
"I loved how the book gave action steps. This was most helpful, and Kristin provided a variety of tasks depending on how you want to fix your burnout. I have realized that I need to work on my business and also myself so I can successfully keep my business running without feeling burnout. Hearing from other pet care providers in each chapter was very encouraging and helped me understand I am not the only one going through this. I highly recommend reading the book and taking the time to follow the action steps and journal."
"This book was everything I needed to read! As someone who has been struggling with burnout and trying to set boundaries between my work and personal life, I will no longer feel guilty for putting myself first. It seemed like Kristin was speaking directly to me and my situation, and telling me exactly what I needed to do to fix it. Just a few days into following her guidance, I feel like a weight has been lifted off my shoulders and I can finally feel like myself again."
"As an early reader of
"How to Recover from Pet Business Burnout
", I had a hard time concentrating on the editing portion of my assignment because I was so caught up in reading about the many ways to recover from business burnout. I read the book twice! This book has given me a lot of food for thought, and I can't wait to start putting the steps into practice. I'm especially interested in Part One: Laying the Groundwork for Transformation. I never realized how past negative beliefs have impacted my business growth, and my personal mindset. Active Imagination is an interesting concept, and I'm willing to give it a try! I'm looking forward to re-reading this book and incorporating the steps into both my business and personal life. This book is well-written, easy-to-follow, and the quotes from other pet care professionals are very relatable. I especially enjoyed Kristin's personal accounts of how burnout impacted her life, and the changes she made to overcome burnout. I would definitely give this book five stars!"
"Take the basics of all the self-help books you've read (or want to read!), roll them all together, and you have Kristin Morrison's
"How to Recover from Pet Business Burnout
"! If you're experiencing burnout with your pet service business, I encourage you to buy this book. It has the answers you've been seeking; plus, information you didn't know you needed to learn! Kristin lays out the recipe to recover from pet business burnout and improve your life. I've always felt I was being a baby about needing adequate sleep, healthy eating habits, daily exercise, and a balanced life in order to function properly. Kristin's book validated my needs and gave me permission to do these things for myself. After reading this gem and working through the exercises and action items, I'm already experiencing the benefits of burnout recovery!"
"I really enjoyed how Kristin wrote the book in sections, it was very easy to read. Her action steps help me take responsibility with each area of the book and bring it into my business and life. It gives me the accountability to follow through and be successful. Also reading the excerpts from her coaching clients about their success and experiences with Kristin's techniques is very motivating.
After I started my pet business, I lost track of my daily meditation routines and let my business take control over my life. I don't have a personal/family/friend life anymore. I am ready to take back control and give me ME time. I am happy Kristin reminded me about how important it is to relive, re-practice, and implement the mind, body, and spirit bond on a daily basis."
"How ironic I needed to read a book to teach me to take time to read a book. This book and most importantly, every single word, spoke to my soul. I knew something was awry in my business and personal life and it was nailed on the head by reading this. The pandemic made me lose all of the boundaries I worked so hard to establish because of fear. The information gained by reading will be applied to my business, my personal life, and most importantly my marriage. I hope to be in a different place come this time next year, a place specifically with balance and I will achieve this because of Kristin and the
"How to Recover from Pet Business Burnout
" book."
"I enjoyed the breadth of topics covered in this book, as well as the action items ranging from negative beliefs to making myself a priority to better serve the people around me. The exercises helped me be more productive, versus just being busy. Reading this book also offered the validation I do not get from friends and family, who may not understand the field or take my work seriously."
"Burnout is real! I know how serious this is as I personally grappled with burnout induced clinical depression. Kristin brilliantly sheds light on this potentially debilitating symptom of perfectionism, the "do it all syndrome", and workaholism. Every entrepreneur will identify with every chapter of the book
"How to Recover from Pet Business Burnout
". More importantly, Kristin provides simple and actionable strategies to help any entrepreneur on the path to recovery or prevent you from traveling down a path towards burn-out."
"Kristin Morrison has done it again!
"How to Recover from Pet Business Burnout
" book will greatly improve so many lives. A must-read by all business owners. I can't wait to put all this in practice myself!"
"Flexibility is one of many benefits of owning your own company, but it can quickly become a curse as every hour of your day fills with work. Few authors address the very real issue of burnout. With over twenty-five years in the pet care industry, author and pet business coach Kristin Morrison provides hard-earned advice for how to craft a business that doesn't sacrifice your sanity or your bottom line.
"How to Recover from Pet Business Burnout
" covers what burnout is, how it happens, and provides a comprehensive, step-by-step guide to fostering work/life balance. Reclaim your life and reignite your love for your pet business, one page at a time."
"As pet business owners, this book helped us gain a clearer understanding of our business and personal life priorities. It is full of practical action steps that allow you to discover not only the signs of burnout, but also how to recover from it and avoid it entirely. By taking a holistic approach and keeping the long term in perspective, Kristin has helped us to see how to acknowledge and overcome burnout so we can continue doing the work we are so passionate about. Whether three months or 30 years in, the topic of burnout is something we can all learn more about!"
Work Happy and Thrive — FINALLY! This Audiobook Shows You How.
If you frequently find yourself overwhelmed with the many aspects of running a pet business, you're not alone.
Marketing. Scheduling. Invoicing. Business operations. Bill paying. Client satisfaction. Hiring and retaining staff. The list of daily and weekly tasks seems never-ending!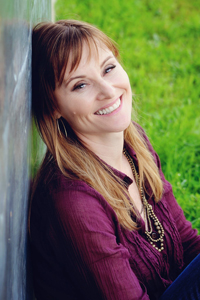 Would you like instant access to a better business future?
How to Recover from Pet Business Burnout is a comprehensive guidebook that will help you move beyond overwhelm right now while providing clear strategies for preventing this from happening again in the future.
You started your pet business because you love animals, but you didn't expect running the business to be so stressful. This audiobook will help you fall in love with your pet business and have a thriving personal life again.
Why spend another minute feeling maxed out by your pet care business when this inspiring audiobook outlines a clear path to make your work and life happier?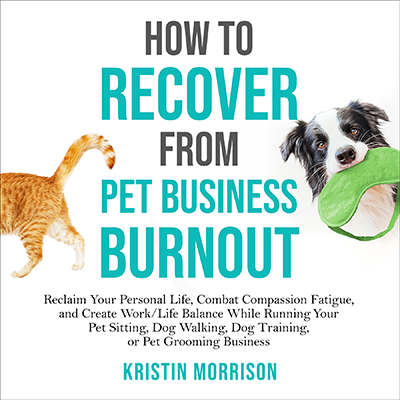 Ready for a game changer? This is it!
Order the Audiobook Today!
HURRY! (Price goes up midnight 1 April to $24.95 so pre-order now!)
With the How to Recover from Pet Business Burnout audiobook, you will…
Order The How to Recover from Pet Business Burnout Audiobook!
Order your audiobook for only $25 and you will be emailed your audiobook.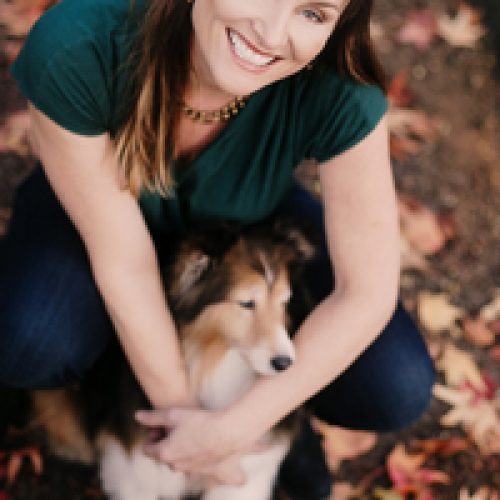 "During my last bout of business burnout, I looked for a book to walk me through the process of recovery. I found some books that touched on various ways of coping with burnout, but what I really wanted was a comprehensive, step-by-step guidebook to take me from overwhelm and exhaustion to energetic enthusiasm. I wanted to fall in love with my business and life again.
When I couldn't find such a book, I decided that once I got to a place of recovery, balance, and peace in my business and life, I would write one to help others who are struggling. This book shares all the steps and tools I used to recover from the seemingly insurmountable stress that can come from being a pet business owner and entrepreneur."
–Kristin Morrison, Author, How to Recover from Pet Business Burnout
What do you get when you purchase
the How to Recover from Pet Business Burnout audiobook?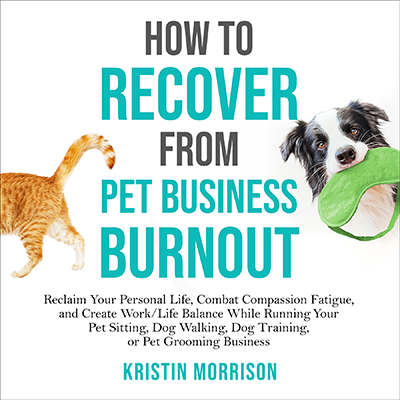 Ready to fall in love with your business again?
Order the Audiobook Today!
Order the How to Recover from Pet Business Burnout audiobook for only $25!
HURRY! (Price goes up midnight 1 April to $24.95 so pre-order now!)
When you order the How to Recover from Pet Business Burnout audiobook now for only $25!, you will…
Your Thriving Work/Life and Well-Being Are Closer Than You Think!
Order the How to Recover from Pet Business Burnout audiobook now for only $25!
HURRY! (Price goes up midnight 1 April to $24.95 so pre-order now!)
This audiobook is a game changer!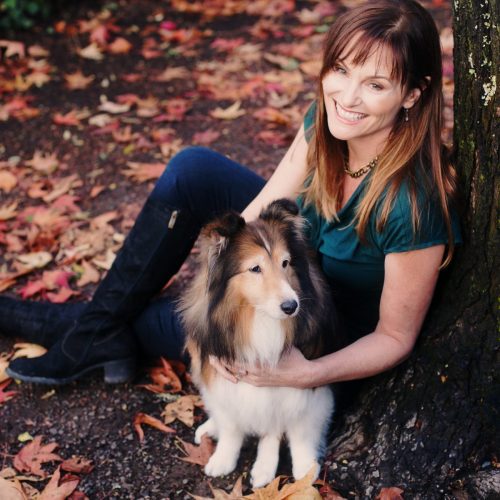 In this book, you'll discover exactly what I did to create a profound shift in my pet business so I could fall in love with my work again and experience balance in my personal life. More importantly, you'll learn who I had to become for that to happen. Changing my business alone was not enough because radical shifts do not happen in a vacuum.
In order to make lasting change in one part of my life, I had to shift many aspects of my life. My business had to change, and I had to change. And through my burnout recovery process, we both changed for the better.
I found a way to have a business and a life, and you can too! This book is your first step to loving life as a pet business owner and reclaiming your personal life — for good.
Here's to your thriving pet business future,
Kristin Morrison
Founder, Six-Figure Pet Business Academy™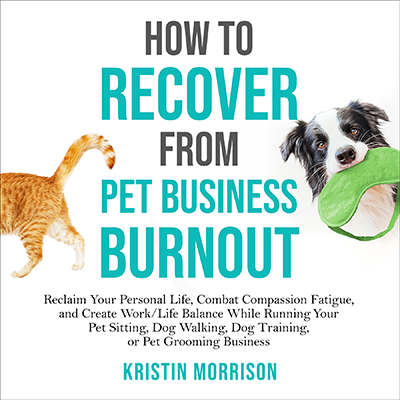 Order The How to Recover from Pet Business Burnout Audiobook:
HURRY! (Price goes up midnight 1 April to $24.95 so pre-order now!)
©2010-2022 Six-Figure Pet Business Academy™. All rights reserved.