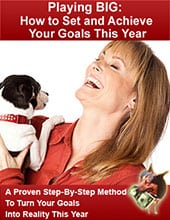 (Webinar recording will be delivered to your email within 60 seconds of ordering.) $20
Many business owners have an idea of what they want to create but few know how to actually turn their dreams for their business into solid reality.
In this recording pet sitting business coach Kristin Morrison teaches her method for step-by-step goal setting that she has successfully used in her business coaching groups and with her individual coaching clients.
When participants follow Kristin's goal-setting method it virtually guarantees success in achieving pet sitting business goals!
In this recording you will learn how to clarify what it is you to create in your business this year and how best to easily achieve what it is you want.
Listen to this webinar and learn:
The #1 tip for goal-setting if you want to achieve your goals
How to uncover the blocks that prevent you from attaining your goals
Out-of-the-box ideas that will catapult you to where you want to be
30-minute Goal Success Q & A with Coach Kristin
And much more…
You will come away with:
A FREE 12-page Goal-Setting Workbook to clarify your goals
A clear knowing of what works when it comes to setting and achieving your goals (and what doesn't)
Clarity about your business goals and how to achieve them
This recording is an hour in length and will be emailed to you in mp3 format and is available for immediate download and immediate listening on your computer NOW. You can also burn this mp3 recording onto a CD so you can listen and learn while you are driving to a pet sitting or dog walking job.
Order the Playing BIG: How to Set and Achieve Your Pet Sitting Business Goals This Year Recording and get started on setting (and achieving!) your pet sitting business goals today!
Click to get back to the Business Products for Pet Sitters page