It's an exciting time over here at Six-Figure Pet Business Academy! 🙂
Here's what's up:
Last month I got a call from a MarketWatch reporter who found my Hiring Handbook for Pet Sitters and Dog Walkers on Amazon.
He asked if he could interview me and the story came out a few days ago. Yahoo Finance saw the story and they asked if they could interview me for their TV show. I'm flying to New York City this week for a live TV interview.
If you're curious about the articles that came out, here they are – click the link under the logo to read the articles:
MarketWatch: https://www.marketwatch.com/story/this-50-year-old-dogwalker-retired-after-making-over-1-million-working-just-three-days-a-week-2019-08-27

New York Post: https://nypost.com/2019/08/28/this-50-year-old-dog-walker-retired-after-making-over-1m
Yahoo Finance: https://finance.yahoo.com/m/464a580d-e448-394a-b901-4efbbe31dd6c/this-50-year-old-dog-walker.html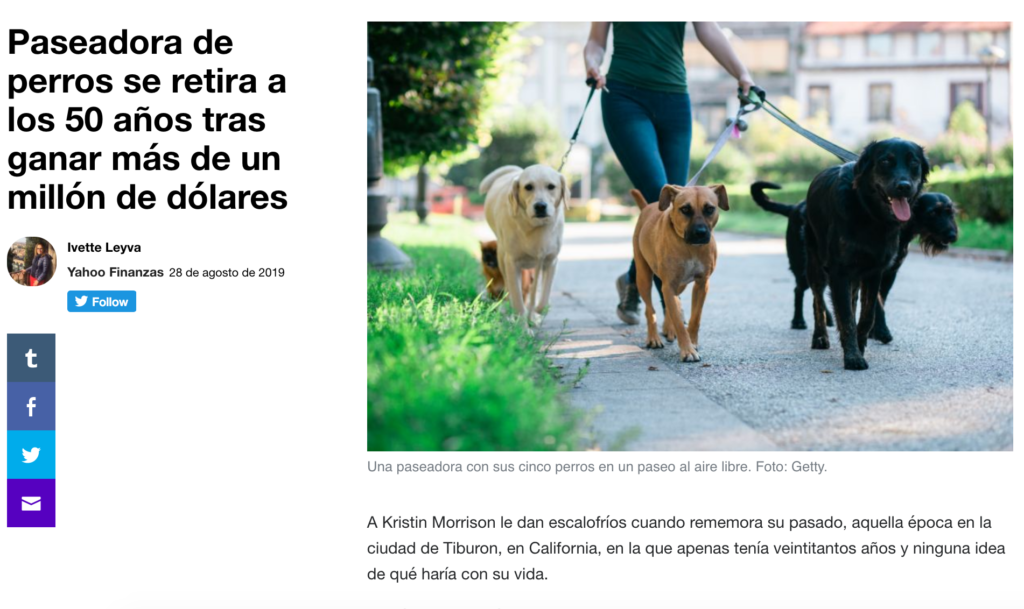 Yahoo Finance (Spanish Edition): https://es-us.finanzas.yahoo.com/noticias/paseadora-de-perros-se-retira-a-los-50-anos-tras-ganar-mas-de-un-millon-de-dolares-200913472.html
The Marker (Israeli Media): https://www.themarker.com/wallstreet/.premium-1.7764232?fbclid=IwAR0f54pbZsljUkM7E3mHYSDTzvt05zIN9djF6kBPzSSkUu4e9uZrbU7EY9k