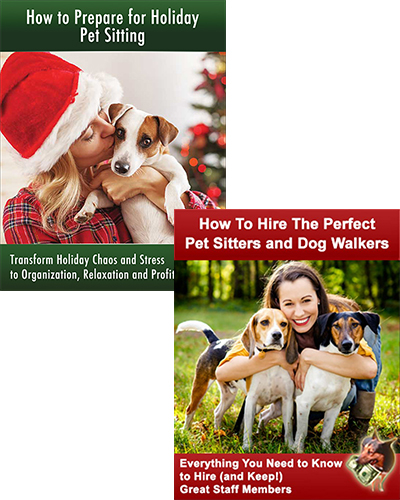 (Webinar recording will be delivered to your email within 60 seconds of ordering.) $30 (a $10 savings)
Ready to catapult to the next level in your pet sitting business? Purchase both the hiring and holiday teleclasses and get ready to jump to the next level in your business.
If you are ready to break free from the constraints that holidays and hiring can sometimes impose on pet sitters then the Teleclass Combination Package for Pet Sitters: Hiring the Perfect Staff and Riches and Relaxation for the Holidays Teleclass Recordings are both for you!
These two separate hour-long teleclasses will be emailed to you in mp3 format and are available for immediate download and listening on your computer immediately upon purchase. You can also burn this mp3 recording onto a CD so you can listen and learn while you are driving to a pet sitting or dog walking job! Why wait? Save money and order the combination package of teleclasses today so you can be better prepared for both hiring and the holidays NOW!
Click here to get back to the Business Forms for Pet Sitters page.