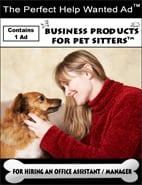 (Contains 1 ad) $20
This is the PERFECT ad to find the right person to manage your beloved business. This ad clearly describes the duties and responsibilities involved as well as the hours you need this special person. As with all of Kristin's products you are welcome to customize this ad to your specific business needs.
If you are ready to hire the right office person this ad is ready for you! Order today and get started on the process of hiring the perfect office manager or assistant right away!
Save $$! Also found in:
Pet Sitting Office Manager Hiring and Training Kit
To add more items to your cart, simply go back to the Products for Pet Business Owners page.