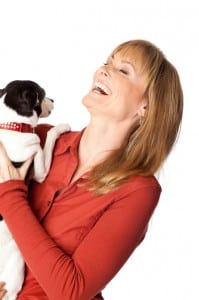 One of the visions that I've had for the last couple of years has been to do more public speaking so I could connect live with pet business owners.
All of my pet business coaching is done with people on the phone which is great (I love it and so do my clients who get to have sessions with me in their jammies!) and I also really like the face-to-face connection.
I've had "public speaking" written on my visions list for a couple of years and boy has it has happened this year! 🙂
I spoke at the National Association for Professional Pet Sitters 2012 conference in Las Vegas, I've recently been asked by local business associations to speak at various business functions this year, a couple of weeks ago I was asked to go to Las Vegas again to speak at another pet business conference (I'll be speaking on Monday, October 22), and then I'll be speaking in San Antonio for the NAPPS conference in February 2013.
I've done a lot of visioning and goal setting in my life and most of what I've put on my various lists has manifested.
Here are four tips that I've discovered through my own visioning and goal setting journey:
1) Writing your visions down is crucial. And putting it where you can see it daily will likely make it happen. There's something powerful about having your vision or goals for your life in writing that causes it to manifest more easily. It's not magic even though it may feel like magic. What happens is that, by seeing your visions or goals on a daily basis, you begin taking the actions needed to achieve your goals. It's as simple as that.
2) As you are visioning ask yourself: "What would I create in my business or my life if I had no fear?" Fear is the #1 emotion that holds us back from visioning and thus achieving what we want. When we can be present to the fear then it will start to shift and movement will happen. Paying attention to the fear is powerful stuff. What we resist persists. Don't resist the fear, simply recognize it and live your life in spite of the fear. Fear will always be there, it's how you relate to it that impacts your life.
3) Have patience. Do the footwork. Trust your visions for your business and your life will happen in right timing. As I mentioned above I wrote "public speaking" on my visions list a couple of years ago. It didn't happen right away. But I was persistent and motivated to do steps needed to make this vision happen. …And some of these speaking engagements have happened out of the blue which is one of the things I most love about visioning–you never know how your visions will happen but just trust that, in right timing, they will happen when you are ready for them to happen.
4) Celebrate what you've created. We are so quick to move on to the next thing, the next goal. When you have achieved something significant in your life allow yourself to pause and honor it (and honor yourself for having achieved it).
I hope to see some of you at these speaking events I've got lined up!
Warmly,
Kristin