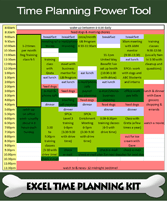 (Delivered immediately in both Excel and PDF format) $50
You've asked for it and here it is! The time planning format that I write about and have an example of in my book is now available for you to easily and effortlessly slip YOUR schedule into.
This power tool will enable you to get an immediate and clear view of where your time is going and also to determine where you want it to go.
The Excel format is for those of you computer-savvy pet business owners who want to have your schedule easily accessible on your computer (and if you aren't computer or Excel-savvy, no problem—I've enclosed a time planning sheet for you to create your time plan by hand).
Time planning is essential for creating a more space in your schedule to do things beside work (what a concept, right?) and to create maximum earning by clearly showing where your time is going for income producing activities (which you will designate by using green).
This Excel Time Planning Tool comes complete with a sample "Real Schedule" and a sample "Ideal Schedule" as well as blank sections for you to create your real and ideal schedule. It can be used year after year and customized as your work and life schedule changes.
It's perfect for pet sitters, dog walkers, pet groomers, dog trainers and anyone who is ready to take control of their time and their life.
Ready to start mapping our your time in a way that gives you the power to work toward your most inspiring work/life visions? If so, you will love this tool!
Order the Time Planning Power Tool today and get started on your road to success in minutes!
To add more items to your cart, simply go back to the Business Products for Pet Business Owners page.