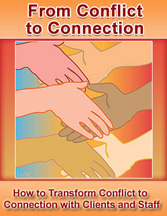 (Webinar recording will be delivered to your email within 60 seconds of ordering.) $15
It's possible to transform conflict into connection if you know how to communicate your needs and desires in a way that your client or staff member can hear.
In this recording we'll discuss ways to resolve conflict that includes everyone's needs: yours, your client's, your staff's.
Difficult conversations are a part of business and a part of life. This webinar will help you become an empowered communicator with your clients, staff, and everyone else in your life.
This recording will offer listeners the chance to strengthen their communication skills with their pet sitting clients and their staff.
If you've had the experience of dealing with:
Anger from a pet sitting client due to a mistake you made
Difficult, hard-to-please dog walking clients
Clients that you've had to 'break up' with
Challenging conversations with clients about their dirty homes or animals that weren't well-cared for by owners
Staff members who forgot a pet visit
Staff members who made a mistake on a pet sitting job
Conversations with staff and clients that ended in anger and were never resolved
In this recording we'll explore how to:
Express what's true for you in ways your clients and staff can hear
Increase your ability to hear views that are different from yours
Stay grounded in the face of anger and intensity
Create safety and connection with clients and staff
Look for win/win solutions
Experience a more empowered, loving way of connecting to your clients and staff both on the phone and in person.
This recording is an 1.5 hours in length and will be emailed to you in mp3 format and is available for immediate download and immediate listening on your computer NOW. You can also burn this mp3 recording onto a CD so you can listen and learn while you are driving to a pet sitting or dog walking job.
Order the Transform Conflict To Connection with Your Clients and Staff recording and begin to transform your communication conflicts into connection today!order now
Click to get back to the Business Products for Pet Sitters page