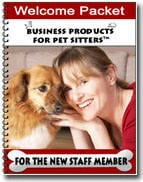 (Contains 6 pages) $55
Kristin developed this packet years ago when she would have sitters come back to her and say "Now what exactly am I supposed to do at each visit or overnight sit? " The packet clearly defines all of the duties involved in both pet sitting visits and overnight pet sitting jobs. The packet includes 2 checklists which will save you time and money because it clearly details what the sitter or dog walker will do when he or she works for you. It will give them the structure and you the peace of mind that you've both gone over all that is involved when they work for your company.
The Welcome Packet™ also contains 2 separate client interview sheets (1 for dog walkers and 1 for overnight pet sitters and visitors) so that they can ask the appropriate questions and get the right information they will need at client interviews. Perfect as-is or use this packet as a template and customized it for your own business needs. The Welcome Packet™ comes with a letter from Kristin detailing how this packet can best be used for you and some tips from her so you can get the most out of this packet and hire wonderful people to assist you in providing great pet care to your clients. The Welcome Packet™ will be emailed to you immediately upon order. What are you waiting for? Buy it today and welcome that new staff member this week!
Each Welcome Packet™ contains:
Letter from Kristin with tips on how best to use this packet
1 welcome letter
1 client interview sheet for pet sitting
1 client interview sheet for dog walking
1 overnight checklist
1 pet visit checklist
1 policy and procedure list
Save $$! Also found in:
Business Hiring Kit for Pet Sitting and Dog Walking Staff
To add more items to your cart, simply go back to the Business Products for Pet Business Owners page.