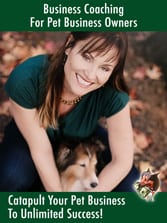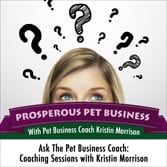 Tuesday, May 15, 2018 at 3:00pm Pacific / 6:00pm Eastern
Cost: FREE
Got challenges you are struggling with in your pet sitting or dog walking business?
In this dynamic and interactive open forum, the first few pet sitters and dog walkers who 'raise their hand' on this webinar will have the opportunity to get coached directly by pet business coach Kristin Morrison.
This free, live coaching session will air on the upcoming Prosperous Pet Business Online Conference and will help other pet sitters and dog walkers who are struggling with the same issues you are.
Any question, challenge or issue that relates to the business of pet sitting or dog walking is welcome!
If you are a pet business owner you are guaranteed to find this Q & A coaching session with Kristin Morrison compelling, supportive, and ultra-informative. Even if you simply listen to other pet sitters ask their questions and hear Coach Kristin's responses you will experience this webinar as an incredible resource for creating a more successful pet sitting business.
Here are some questions that we may cover in this live coaching session (but it's really up to you!):
How do I get and keep pet sitting clients? How can I grow my pet sitting business? I feel stuck. Help!
What marketing ideas really work?
How do I get my first client?
What are some techniques for expansion?
How do I grow my business if it's been around for a while and stagnant?
How do I quit my job and pet sit full-time?
What should I charge for my services?
I have an issue with a client. How do I deal with it?
What is the best book for new business owners?
How do I hire great people?
How should I manage my business financials?
When can I raise my rates? And how do I do that so clients stay?
How many pages should my website be?
Does Facebook, Linkedin and Twitter really help business?
What do I do if a staff member makes a mistake at a job?
Insert your question here ____and sign up so you can ask it!
This will be a fun and supportive interactive webinar. You will learn how to run a successful pet sitting and dog walking business, regardless of whether you are called on to ask your own business question or you simply listen and learn from other pet sitters' business challenges and Kristin's response to them.
At the end of this webinar you will be armed with a wealth of information to take back to your own business and you'll have had a great time listening to pet sitters from across the world share about the challenges that pet sitting business owners face each and every day and the solutions that Kristin gives to help solve them.
Coach Kristin is best known for her "Out-of-the-Box" coaching technique for pet business owners. The most common comment after a coaching session with her is often: "Wow! That's a great idea! I hadn't thought of doing that."
Want to run your business in a powerful and profitable way? Then join us for the Ask the Pet Business Coach: Live Pet Sitting Coaching webinar.
Details and FAQ about the Webinar: Ask the Pet Business Coach: Live Pet Sitting Coaching With Kristin Morrison
When?
Time: 3:00pm Pacific / 6:00pm Eastern
How much: This webinar is completely free.
Will this webinar be recorded and available to the public? Yes. This coaching webinar will be made available on the upcoming Prosperous Pet Business Online Conference in order to help pet business owners who are in need. By asking your question on the webinar you are agreeing to being recorded for the prerecorded conference episode as well as providing a great service to help others who might have the same challenges you do.
How: Instructions for this free coaching call will be given upon sign-up. You can click the registration button to sign up now.
Will I have to appear on video for this webinar if I have a question? No. The webinar is audio only so only your voice will be heard.
How long do I have to sign up? This free webinar is on a first-come, first-serve basis. There are only 100 spots available and it's recommended that you join the webinar at least 10 minutes early in order to have the best chance of having your question answered during the webinar.
What's the best way to join the webinar if I have a question? You must call in via your telephone if you want your question answered during this webinar. Calling in via computer will only allow you to listen in and not ask your question. Please only log in via computer if you don't have a question you want answered on this webinar and you simply want to listen.
How do you choose people to ask their questions? The first few pet sitters who arrive on the webinar will have the first available opportunity to have their questions answered. Kristin will coach as many pet sitters as possible. You can ask any pet sitting or dog walking business-related question and/or be coached on any business challenge or situation you are experiencing. It's a great opportunity to get coached for free by pet business coach Kristin Morrison!
What's the best way to ask my question when I'm called on? Kristin asks that you distill your question to be very brief and concise so you will have the maximum amount of time to hear her response. Kristin will coach as many pet sitters as time allows.
Will I still get something out of this coaching webinar even if I am not a pet sitter who gets my question answered? YES! There will be many questions, challenges and issues on the call that you will be able to relate to and learn from regardless of whether your particular question is answered or not.
I've signed up for this before and I want to sign up again. Will I get something from this webinar since I've already attended one before? Absolutely. Each Coaching with Pet Business Coach Kristin Morrison webinar session is so different because different people are on each call and bring different questions. You can be assured that you will find each Q & A session a dynamic, fun, and informative experience so join us month after month!
Okay, this sounds great! How do I sign up? It's easy! Just click the registration button below to sign up.