Six Figure Pet Business Book
Are you running your pet business or is your pet business running you?
Six-Figure Pet Business: Unleash the Potential In Your Dog Training, Pet Grooming, and Dog Day Care Business was written for dog trainers, pet groomers, and doggy daycare owners who are ready to work smarter rather than harder in their pet business.
Six-Figure Pet Business: Unleash the Potential in Your Dog Training, Pet Grooming, and Dog Day Care Business is available in both eBook and printed format. If you are ready to change the way you do business, this book will take you to the next level in your business and your life.
This book for pet business owners contains the secrets to achieving unlimited success in the business of dog training, pet grooming, and doggy day care.
Order the 256-page e-Book (delivered immediately to your email upon order) or the printed version of the book (order via Amazon).
"Six-Figure Pet Business is a first class book for all wishing to start in the pet business. I will definitely be recommending Six-Figure Pet Business to all wishing to start their own pet business and those already in it."
-Martin Deeley, Executive Director
International Association of Canine Professionals (IACP)
"Kristin has once again shown herself to be a terrific Business Coach! Six-Figure Pet Business gives the pet care service professional all the steps they need to grow their pet business. Following Kristin's step-by-step program as laid out in this book will make future growth plans easier to begin. And for those individuals looking to start a pet care business this is a must read."
-International Boarding and Pet Services Association (IBPSA)
"As someone who started training dogs professionally in the late 70's, I remember a time when books on dog training were rare and those published were mostly about breeds and/or dog shows. One area that has always been under represented is the subject of business. This lack of information creates a real challenge for the typical dog trainer. Not only does Six-Figure Pet Business explain important business principles in an understandable fashion, it is replete with up-to-date tips designed to help dog trainers in the real world."
–Steven Appelbaum
President, Animal Behavior College
"Highly recommended: Kristin Morrison's "Six-Figure Pet Business: Unleash the Potential in Your Dog Training, Pet Grooming, and Doggy Daycare Business", a broad-based career guide for pet enthusiasts who want to earn a respectable living doing what they love."
-Midwest Book Review
E-book – $24.95
A note about the book from Kristin Morrison:
Dear Dog Trainer, Pet Groomer, or Doggy Day Care Owner,
I wish I'd had this handbook when I started my pet care business back in 1995! This book is the culmination of my many years of learning the hard way – and often falling flat on my face – in order to realize what works and what doesn't when it comes to running a successful, stress-free, six-figure pet business.
I wrote this book so that you don't have to reinvent the wheel in terms of pet business success. It is my intention that through these pages, you'll find your own mastery and six-figure profit in the world of professional dog training, pet grooming, dog day care or whatever kind of pet business you have! (PS-If you own a pet sitting business, my first book "Six-Figure Pet Sitting" will be the right book for you.)
Working with animals is exciting and fun, and by applying what I've written in this book, it can be a very lucrative and flexible business.
Although this book is primarily targeted to pet business owners who have already started their businesses, I have including some start-up information in Chapter 2 for those who need some business start-up tips. If you have already launched your business, you can skip Chapter Two or give it a quick review to ensure you haven't overlooked any important details.
I wish you much pet business success!
Warmly,
Kristin Morrison,
Founder of Six-Figure Pet Business Academy™
Table of Contents
1. Charting Your Course:
Creating the Foundation to Build a Six-Figure Pet Business
2. Getting Started:
12 Start-up Tips to Ensure Business Success from the Beginning
3. The One-Hour Business Plan:
Planning Your Work, Working Your Plan
4. Because You're Worth It:
How Commitment and Self-Worth Lead to Net Worth
5. For the Love of Money:
Removing the Blocks to Let Financial Abundance In
6. Rise and Shine:
Creating a Morning Routine for Business Success
7. Getting Organized:
Daily/Weekly/Monthly Business Organization for Optimum Focus
8. Show me the Money!
Understanding and Working with Basic Business Financials
9. You Are What Your Clients See:
Creating Great Promotional Materials
10. Get Clients NOW:
Marketing and Selling that Generates Results
11. You, the Employer:
Secrets to Finding, Working with, and Keeping Good Staff Members
12. Client Details in a Service-Based Pet Business:
How to Provide Great Service and Train Your Clients on How to Treat You
13. Happy Holidays:
How to Have a Successful and Stress-free Holiday Season in Your Pet Business
14. Ready, Set, Goal!:
Setting Goals to Achieve Pet Business Success
15. Your R&R for Relief & Relaxation:
Cures for Pet Business Burnout & Planning Time for Yourself
16. The End:
(But not really…)
Recommended Resources
About the Author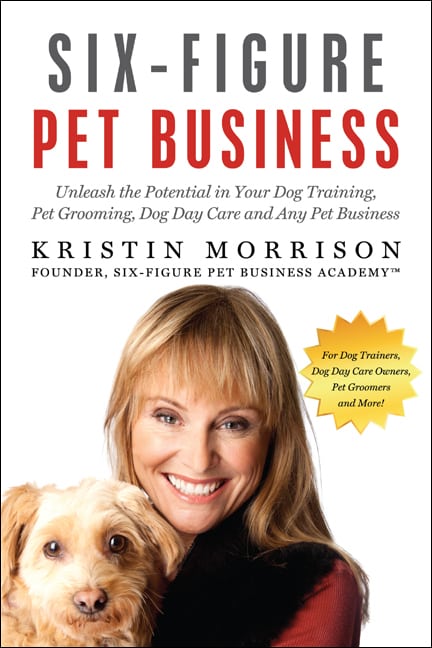 E-book – $24.95