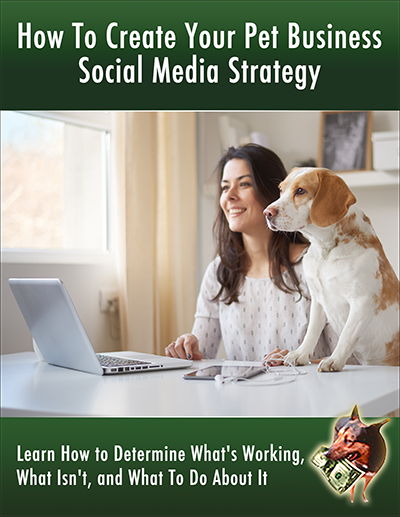 Tuesday, at 4:00pm PST / 7:00pm EST
You may love the idea of what social media can do for your business but actually keeping up with social media may overwhelm you, especially since you wear so many hats as a pet business owner.
This webinar is for you if:
You don't want to think about your social media and yet, it's on your mind more often than you'd like to admit.
You may not know what you're doing when it comes to social media marketing – or even if what you are doing is working.
You throw something up on your social media and see if you get some likes and cross your fingers hoping it gets your business out there in front of your ideal clients.
You may realize this approach to social media hasn't been working… for you or your business.
Increased competition and clutter on social media has caused the entire landscape to change drastically for anyone using it to market their business.
Social media is crucial for attracting clients. So, why not make it fun and effective again? And drive sales to your services and increase website clicks while you're at it!
Whether you're totally new to the world of social media marketing or you want to fine-tune your social media strategy this year, this webinar has you covered and will give you an edge against your competitors.
By Attending This Webinar, You Will Learn How To:
Set social media goals that make sense for your pet business
Build an empowering "Buyer Persona": Get clear on who you are talking to and how to represent your business in a compelling way on social media
Know what types of content to publish on social media
Discover how frequently you should post and how to be consistent
Gain trust from prospective clients through your content
How to assess what's working, what isn't, and what to do about your social media strategy if it's not working
And a Live Q&A to answer all your questions!

Josh Martin
Denver Marketing Solutions
You Will Walk Away From This Webinar With:
An understanding of why it's important your business is authentically represented on social media
Powerful and compelling content ideas for social media marketing
Pro tips on how to conduct your own competitive analysis
The "How to Perform a Social Media Audit" booklet PLUS your own "Simple Marketing Strategy Template"
After this webinar, you'll be ahead of the curve and your competition when it comes to your social media marketing strategy and you'll walk away feeling confident and empowered knowing you have a plan as you roll into the new year!
Details and FAQ about the Webinar:
Date: Tuesday, August 29, 2023
Time: 4:00pm Pacific / 7:00pm Eastern
How long is this webinar? 75-90 minutes
How much:
$40
How does class take place? Via Zoom webinar. You'll experience an interactive PowerPoint visual presentation and live video via your computer. You'll learn a lot and have a great time with pet business owners from all over the world who will be attending the webinar. (There will be attendees from Canada, United States, Australia, UK, and many other parts of the world.) You will love it!
Can you send me the recording if I can't attend the live webinar? Absolutely! All attendees will receive a recording of the webinar the day after the webinar date. You'll have 90 days to watch, listen and learn from the webinar recording.
Will there be space on this webinar if I wait to sign up a few days before the webinar date? Perhaps not! There are only a certain number of spots for this special webinar (we are using Zoom for this webinar and are anticipating a large number of attendees) so this webinar is on a first-come, first-served basis. If you are ready to achieve your pet business marketing goals and get a lot of clients, we recommend you commit to your business now and sign up today to reserve your spot.
I can't make it on the particular day that it is currently scheduled. Will you be offering this class on another night? We won't be offering this webinar again until next year. We send an announcement of new webinars via our email newsletter or you can check back on the website to see the new classes that are posted monthly.
What if I can't make the webinar date? No problem! All who sign up will also receive the webinar recording the day after the live webinar.
I'm tired of being on the computer. Why should I do this webinar? I hear you. Many of our webinar attendees learn best from the comfort of their bed with their laptop or with their feet up while relaxing in a comfy chair. You're welcome to do that too! And again, if you and your brain are really fried the day of the live webinar, no worries because you will have access to the recording for 90 days, so you can watch at a time where you feel receptive and ready to take in this valuable information.
Is this class for all types of pet business owners? Yes. This webinar is for ALL pet business owners (pet sitters, dog walkers, dog trainers, dog day care owners, dog groomers, etc.) who want gain clients easily and effortlessly to rapidly grow their pet business.
Okay, this sounds great! How do I sign up? It's easy! Just click the registration button below to sign up.